Barbecue is the everyman's cuisine. Beginning with the first Colonial settlers and leading up to the working men of Kansas City serving sauced ribs in newspaper copy, BBQ is the dominant, low-brow food for the masses. However, as technology evolves, more and more intricate ways to achieve smokey goodness can easily overwhelm the BBQ newbie. "How in the world can I add smoke without a giant rig or sprawling backyard?" A common question asked by many who answer their own question by using liquid smoke flavoring – the true enemy. Luckily, pulling-off delicious Plant-Based BBQ at home is not the undertaking one might imagine. With a few simple tools, many of which found in your kitchen right now, you can start experimenting with smoke to flavor your favorite plant-based products today.
1. Rangetop Smoker or Bag Smoker (tie)
It was important for me to place these products at the top of the list because of their ease and adaptability for the home-cook or BBQ newbie that feels intimidated by using smoke. These products provide a healthful way to impart flavor without the use of oils or unnecessary animal fats.
The Rangetop Smoker – a simple, dual-purpose device that allows the user to smoke or steam their favorite foods right on their stovetops. Wood of your choice is placed at the bottom of the smoker and food is placed on a rack affixed directly on top of the wood. As your range burner gently heats the wood, smoke is slowly infusing the food of choice, a process called hot-smoking. With the help of the sliding lid, smoke remains inside and therefore concentrating your product with flavor without drying or over-cooking. You can smoke anything with this device – tofu, jackfruit, seitan, or any ordinary vegetable to bump up the flavor. 
The Bag Smoker – a real WOW product as far as I'm concerned. The Bag Smoker makes smoking foods beyond effortless. This product is the epitome of straightforward home-smoking. The three-tiered bag comes ready with your favorite wood – just add the food of your choosing, chuck into your oven or on your grill, and you're good to go! Clean-up is non-existent and these bags are 100% recyclable, not to mention criminally inexpensive.
 2. Potato Masher
Yes, that's right. The potato masher you have stashed somewhere in the back of one of your kitchen drawers is an expert tool used for Plant-Based BBQ. I use a potato masher, well, for the obvious – mashing (sweet) potatoes as a delicious side-dish. The potato masher comes in handy for some of my plant-based recipes as well. Perfect as a side dish or in tacos, Smoked Chickpeas make for an excellent plant-based staple.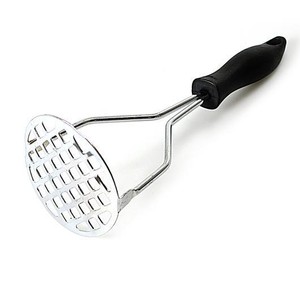 3.  Screen Colander
We all have at least one colander somewhere in our kitchen. Typically used for draining pasta or potatoes, the screen colander can be used for much more. I typically use my colander for draining jackfruit before the seasoning and smoking process in my Pulled Jackfruit recipe. When cleaning vegetables, a screen colander is a useful tool as well. For a real pro-tip on shelling chickpeas – shake your chickpeas in a screen colander to easily remove the shell.
4.  Recyclable Aluminum Pans
Recyclable Aluminum Pans are an obvious, yet underrated tool for Plant-Based BBQ. The size, versatility, and recyclability of these pans really lend themselves to serving Plant-Based BBQ to the masses. With these pans, the home-cook or caterer is able to season, smoke, and bake high volumes of food with little effort. The most valuable aspect of this tool is the lack of clean up afterward.
5.  The Instapot
We've all heard so much ranting and raving about the beloved Instapot. Admittedly, it's a great tool for the home cook. The Instapot lends itself to a real set-it-and-forget-it way of cooking which is great for the busy-body. I generally use my Instapot for plant-based Baked Beans. With the Instapot, you're able to skip the soaking process while also avoiding the high sodium levels in canned beans. Baked Beans are a staple side-dish in BBQ, especially in Kansas City. Not serving Baked Beans with Seitan Brisket is not an option. 
With these readily available tools, you can now approach Plant-Based BBQ sans stress. Throw away that liquid smoke and take the plunge into the BBQ world using the items already present in your kitchen today – your family will thank you for it and so will your waistline.